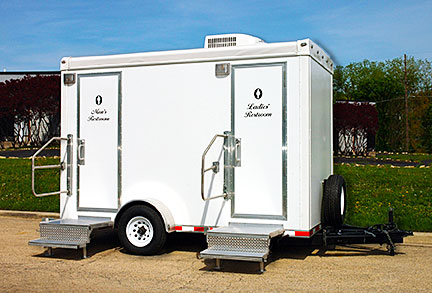 Elegant Mobile Restroom Trailers
We Rent Throughout The Eastern USA
Running Water
Flushing Toilets
A/C & Heat
Stereo

Contact:
Katie Nesbit
724.944.6727
3005 Ellwood Rd, New Castle, PA 16101

Great for:
Weddings, Reunions,
Graduations, etc.

Daily, Weekend, Monthly
Rental Rates


Call to Inquire About
Affordable Rates
We service our equipment in the field regularly so that your experience, and that of your guests, will be a pleasant one. We wish your event to remind you of home with our spotless and sparkling restroom facilities. We offer prompt pickup after your event, and if your event runs several days or weeks, our regular and routine maintenance service will keep your guest rentals fresh and clean.
We Pride Ourselves on our Clean and New
Well-Serviced Equipment.